1st Btn Y&L Band.
(see commentary below)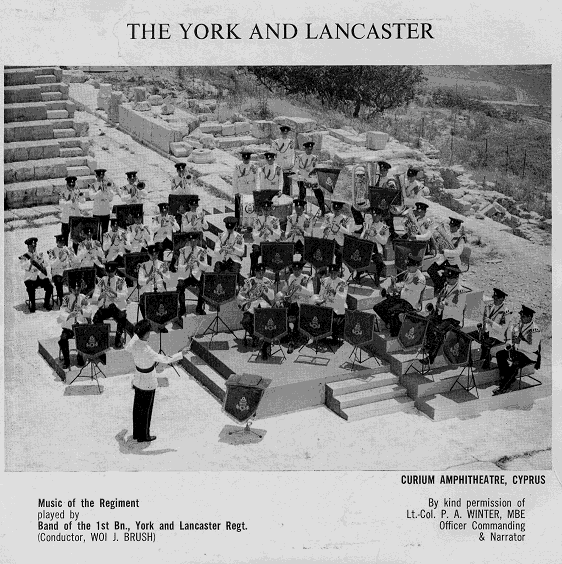 reproduced from a record cover.
Recently the Conductor John Brush kindly supplied this information about the picture.
"On your website you show a photo of the York & Lancaster Regt Band in a very artificial pose at Curium Theatre - Cyprus, and you ask if anyone has info. Here goes.
Background. Curium Theatre is an ancient Greek ampitheatre that had been used by RAF Episkopi to put on record (disc) concerts. I persuaded them to stage a live show featuring our band, something that had never been done before. Not being totally convinced of the viability of such a course of action, they nevertheless gave the OK and offered to handle publicity which they did excellently. We played to an audience of over 4000 and received more standing ovations than we could handle!! A few days later this photograph was taken.
The personnel, and what happened to them on disbandment now follows:-
Position
Name
Disposal
Bandmaster
John Brush
1. BM, Royal Highland Fuliliers
2. Brigade BM, Welsh Brigade
3. Capt, DOM, Royal Brunei Malay Regt.
4.Superintendant, DOM, Royal Brunei Police.
5.DOM,St Dennis Band, Cornwall
1st Flute
Bdsm J Cocker
Green Howards Band
2nd Flute
L/c J Fawbert
Redundant
Eb Clar
Bdsm J Kitchen
King's Div Depot
Oboe
L/c H Senior (+ piano & sax)
Royal Corps of Transport Band
Solo Clar
Cpl A Close (+ sax)
3rd Btn Queens Regt Band
Solo Clar
Bdsm C Shephard
Redundant
Rep Clar
Bdsm M Murphy
Scots Guards Band
2nd Clar
Bdsm D Addison
Duke of Wellington's Band
2nd Clar
Bdsm G Brown (+ guitar)
9/12th Lancers Band
3rd Clar
Bdsm C Robinson
Redundant
3rd Clar
Bdsm G Smith
Prince of Wales Own Band
Alto Sax
Sgt W Crossley (+sop sax)
Redundant
Alto Sax
Bdsm W Ricketts
Redundant
Ten Sax
L/c O'Reilly
Redundant
Ten Sax
Bdsm J Petticrew
Redundant
Bar Sax
Bdsm J Swift
Redundant
Bassoon
Bdsm J Clough
Royal Engineers Band
1st Horn
Sgt D Green
Redundant (on to Central Band of the Royal Australian Air Force)
2nd Horn
Bdsm B Hancox
Redundant
3rd Horn
Bdsm J Wroe
Royal Corps Of Transport Duty
4th Horn
Bdsm P Parker
Redundant
1st Cnt
BSM C Dangerfield
Redundant
1st Cnt
L/c P Hill
3rd Carabiniers Band
2nd Cnt
L/c A Kay
Redundant
2nd Cnt
Bdsm E Dyson (+ guitar)
Redundant
3rd Cnt
Bdsm D Cocker (+ guitar)
Prince of Wales Own Band
3rd Cnt
Bdsm D Plummer
Redundant
1st Tbn
Cpl D Brown
4/7 Dragoon Guards Band
2nd Tbn
Bdsm I Cross
Redundant
Bass Tbn
Bdsm J Lawrence
Redundant
Euph
Sgt T Green
BSM of Prince of Wales Own Band
Euph
Bdsm T Holmes
Duke of Wellington's Band
Eb Bass
Bdsm J Kenny
Redundant
Bb Bass
Cpl R Tams (+ bass guitar)
Redundant
Perc
Bdsm J Salisbury
19/21 Lncers Band
Perc
Bdsm J Gregory
Redundant
Perc
Bdsm B Nicholls
Prince of Wales Own Band
Perc
Bdsm P Smith
Redundant
Hope this helps.
John Brush
ps. The photograph was taken by the Photography Dept, RAF Episkopi."
page updated 2004