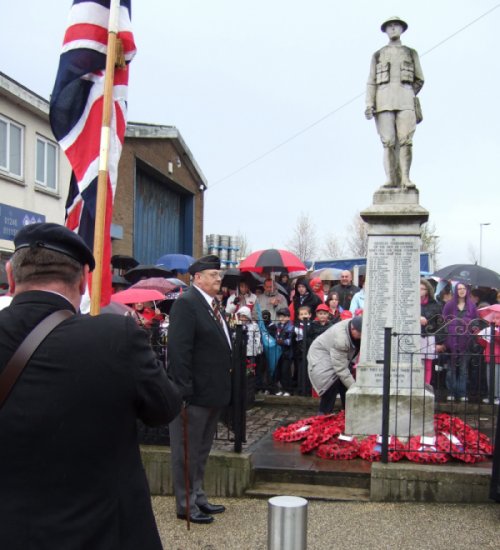 Laying of wreaths at the Cenotaph 2009
Remembrance in Clowne Village
Every year the people of Clowne get together to honour the fallen of two world wars and to remember their sacrifice. The names of the fallen appear on the Cenotaph in the centre of the village (see Roll of Honour at bottom of page).
Remembrance is not about glorifying war and is not about those attending the memorials. It is about remembering the sacrifice of those who gave their lives for us that we might never forget.
Remembrance Sunday 2017 is on Nov. 12th.
The morning on Remembrance Sunday in November begins with a Service in Church or Chapel where the names of the fallen of Clowne are read out from the Book of Remembrance. There is then a Parade to the Cenotaph where a Service is given.
Service and Wreath laying and last post 10.55-11.05
The wreaths are laid by those offering them and their names read out by a member of the FOS. The Act of Homage is given and then the Kohima Prayer. The Last Post is played at 11am followed by a 2 minutes silence.
Act of Homage
They shall grow not old, as we that are left grow old,
Age shall not weary them, nor the years condemn,
At the going down of the sun, and in the morning
We will remember them
Kohima Prayer
When you go home, tell them of us and say,
'For your tomorrow we gave our today.'
The Remembrance Day is organised between the Clowne Parish Council, St. Johns C.of E. Church, the Methodist Church (Mount Zion), The Salvation Army and the Fellowship of the Services and the Poppy Appeal Organiser.
The 3 churches take turns to officiate at the Service of Remembrance. In 2015 it will be St John's. Church .
In 2014 the Salvation Army In 2013 it was Methodist Church.
The Parade and Service is well attended by many organisations and private individuals, young and old.
The Parade and music is led by the excellent Salvation Army Band. The FOS and ex-service personnel follow next bearing the Standards. The rest of the Parade is well represented by private individuals and also organisations such as the Fire Brigade, Army Cadets, Sea Cadets, local village groups and the various Cub, Scout, Brownies and Guide groups. There is a list of organisations which laid wreaths on the link at the top of the page.
The Parish Council provides a PA system and each year organise the closing of the roads around the Parade and Service. This costs the Council approx £800 paid to Derbyshire County Council. A flag is flown at half mast in front of the Parish Council offices opposite the Cenotaph.
The people of Clowne lay around 30 or more wreaths each year which is a remarkable for the size of village. this is as many as laid in Chesterfield in front of the Town Hall. if you are interested in laying a wreath then there is a contact name on the Wreaths laid page (click "Clowne Poppy" link at the top). Many people also put Poppy Crosses into the boxes provided within the Cenotaph railings in order to honour relatives who served in the armed forces or to remember anyone who is no longer with us.
400 Orders of Service leaflets were given out at the Cenotaph in 2009 and many people were sharing. Similar numbers attend each year.
Thanks to those who organise the Ceremony and to all those people of Clowne who attend.
Please follow the "Clowne Poppy" Appeal link at the top of the page to see how much money was raised for the British Legion in 2012 and years past.
Also follow the links to see photos of the parades in previous years.
Roll Of Honour
These are the names of the fallen on the Cenotaph.
1914 - 1918
BUTLER BOWDEN
LT
LEES
J
PTE
HAYWOOD
H.E
PTE
WOOD
E
L/C
WHITEHALL
J
PTE
DEVNEY
J
PTE
MALLEN
H
PTE
COX
S
DVR
PARKINSON
W
GNR
MALLINDER
T
PTE
MORTON
W
GNR
PROVINES
J
CPL
BALL
G
PTE
SMITH
P
PTE
GEE
W.H
PTE
JENKINSON
R
PTE
HAMILTON
M
PTE
GREEN
J
PTE
LAMBERT
H
SEAMAN
OLAND
J
PTE
GIBSON
S
PTE
COUPE
G
PTE
DOLBY
A.H
PTE
TOMLINSON
J
GNR
EDWARDS
F.J
PTE
WOODHEAD
H
PTE
ROE
H
DVR
HEWITT
W.E
GNR
LEES
W
L/C
BUCKINGHAM
H.H
PTE
NEEDHAM
W
L/C
WIDDOWSON
W.B
PTE
CAWKWELL
R.W
PTE
EDWARDS
C.F.P
CPL
BARLOW
G.E
PTE
FISHER
A.E
PTE
PROFFIT
J.F
PTE
SESTON
S
SGT
BUTLER
E.C
PTE
BUNTING
W
PTE
STANLEY
S
STKR
BRAMER
E.E
CPL
JENKINSON
F.L
PTE
GODWIN
C.H
LT
TAYLOR
T.E
PTE
PLUMBE
J.H
SAPPER
SIMMS
C.A
PTE
FRANCERS
W.J
DVR
HENDRY
G
PTE
LAMBERT
P
PTE
GREGORY
J
L/C
BROWN
F
RD
WOOD
A
PTE
BAXTER
J
PTE
WILKINSON
B.N
GNR
WAREHAM
T
PTE
BRAMER
J.R
SGT
HOWELL
C.F
PTE
WALKER
J
BDR
WOODHEAD
O
PTE
QUINN
J.E
PTE
SLACK
J.A
PTE
FREEMAN
G.W
L/C
COKAYNE
W.N
PTE
HOLMES
H
PTE
FELLS
A.B
PTE
MARSHALL
A
PTE
PROVINES
E
PTE
HARDY
W.H
PTE
GREEN
W
PTE
THORPE
P
L/C
TAYLOR
W
PTE
GODDARD
B
PTE
BUTCHER
N
L/C
FLETCHER
H
PTE
HILL
T
SAPPER
FEATHERSTON
F.J
PTE
WALVIN
H
PTE
FELL
G.H
PTE
WILKINSON
A
PTE
STOKES
T
PTE
INGRAM
D
PTE
PICKERING
F.S
PTE
HOULETT
C.F
PTE
HUMPHRIES
J
PTE
HILL
E
PTE
BRAILSFORD
H
CPL
RENSHAW
A.E
PTE
WOODHEAD
C.E
PTE
MAPLETOFT
R
PTE
JOHNSON
H
PTE
GODDARD
J
L/C
DEXTER
F
PTE
FROGGATT
W.C
L/C
BAGSHAW
L
PTE
WOODHEAD
A.H
PTE
UPTON
G
PTE
1939 - 1945
BUCKINGHAM
W
L/STKR
CHAWNER
A
STKR
CLARKE
G.H
GRDS
COTTINGHAM
M
CPL
COTTERILL
J
GNR
COWLEY
C
SGT
FAHEY
L.E
SGT
FAHEY
J.M
PTE
FISHER
W
PTE
FROST
(no initial)
GRDS
FULLWOOD
F
L/CPL
GOTHERIDGE
F
SGT
GREATOREX
H
SGT
GRETTON
W.C
L/CPL
HUNT
A.J
STKR
JERVIS
I.A
SGT
MACKENZIE
C.D.F
F/SGT
OLDFIELD
H
GNR
PARR
J.H
PTE
PHILIPS
G.C
SGT
PICKERING
J.W
L/STKR
PLATTS
D.K
GNR
QUINN
E.W
SISTER
ROBERTS
N
PTE
RUSSELL
L.D
L/SGT
SHANNON
C.J
PTE
STURMAN
W.F
PTE
TOMLINSON
H
PTE
WEBBER
C
PTE
WHITE
J.C
PTE
WHITE
T.E
PTE
WILD
A
CPL
WILD
J.A
FUSLR
YEOMANS
T.S
CPL
Disclaimer
Authored by Paul English.
The author has attempted to be as factual as possible.
All opinions expressed are entirely the authors.
All pictures are by Paul English, Peter English and Arthur Heap.
Please report any errors, omissions, feedback to remembrance200@yahoo.com
If you have any photos from previous years please let me know.