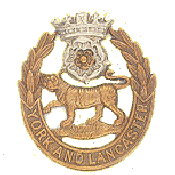 Brief History
The Band originates from the Hallamshire Battalion (T.A.) of the
York & Lancaster Regiment and the Battalion was formed in 1859.
The name 'Hallamshire' was given as a regimental honour
as most of the men came from the Hallamshire region of
Sheffield in Yorkshire.
The Band lost most of it's equipment during the Norway campaign in the Second World War.
It was reformed after the war by Bandmaster Lawrence Willgoose who had previously been with the RAOC Staff Band.
There is a picture of him with the Band in the gallery pictures.
He retired in 1959 and Tommy Tuft took over.
It was disbanded from the regiment in 1967 but was allowed to
keep its' name as a civilian band.
Bandmaster Tommy Tuft and Band Sergeant Jim Cole
both sadly no longer with us, stayed with the band for many years.
We still have some of the members who served in the battalion today.
The Band is currently conducted by Christine English who took over
on Tommy's retirement.

Why 'Military' band?
Military bands have their roots in the armed forces but the term
is now used to mean those bands with woodwind instruments
as distinct from 'Brass Bands'.
Present Day
The Band is a group of musicians of varying ages and proficiency
making music together in a friendly atmosphere.
They play for their own pleasure and give pleasure to others
with their concerts.
The Music
Despite the title 'Military' the music we play covers many different
types from the traditional Marches, Overtures and Classics
through to modern day music from the Shows and Cinema.
New music releases are added often.
New Members
We are always looking for new members and anyone contemplating
joining is welcome to sit in on a rehearsal.
Contact the Conductor for any news of vacancies.